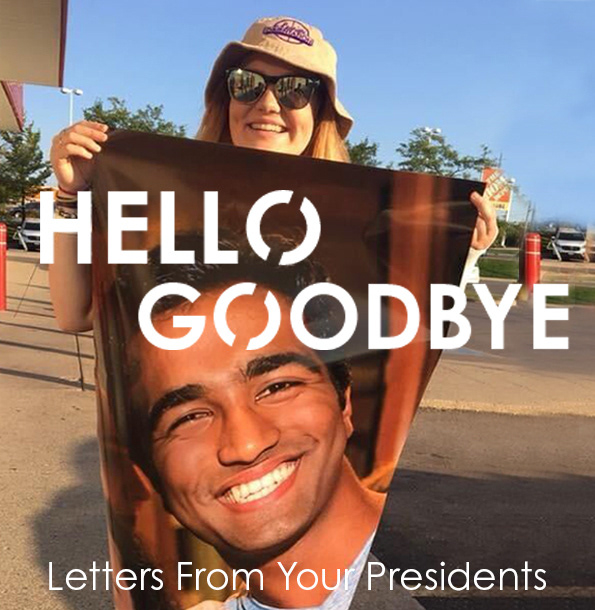 Dear Laurier undergraduate students,
As this year comes to an end, the student executive team and I wish to thank our undergraduate students, volunteers, staff, and Wilfrid Laurier University for a truly unforgettable year. The skills we have learned and the relationships we have built through the challenges and opportunities presented to us will always be remembered. On a personal and rather candid note, I am so grateful that you elected me to be your friend and voice this year. Hands down, this has been the most fun position I have ever held.
I have to acknowledge that we are not exactly ending the year "traditionally" and you know what? That's okay! You have all worked very hard to get through the uncertainty during our class and exam season. I am confident that you will brave whatever else emerges from this crisis. I know that this time presents a variety of challenges to all of you, but I encourage you to stay strong and most importantly, look out for one another.
Whether or not you are continuing at Laurier, you are all Hawks for Life and this should be reflected in your interactions with others. Check in on your loved ones, find creative ways to interact, and protect one another by following public guidelines. During this pandemic, we continue to provide updates and interactive ways to connect with our students.
Though our leadership is turning over during this uncertainty, we are confident that next year's student executive will continue this trend of transparency and devotion to the student experience that defines being a Golden Hawk. Thank you for an unforgettable year. Stay safe, stay strong and stay Golden.
Zemar Hakim


YOUR 2019-2020 Students' Union President
​​​​​​​
My name is Devyn Kelly and I am so excited to have been elected as your Students' Union President for the 2020-2021 school year.
Given the uncertain circumstances in which we have completed our Winter 2020 semester, I hope you are all doing well and want to remind you that we will all get through this together. As we transition into the summer, take time to reflect on your accomplishments over the past year. Whether you just completed your first year or your final year, you each have successes to celebrate.
My team and I have been transitioning into our new roles over the past few months and we are ready to use our passion for Laurier to enhance your student experience. We have been working diligently to find ways to support and engage students in the current online environment, while carefully planning for our eventual return to campus. We are all grateful to be working in an environment where the needs and voices of students are the top priority.
I am thrilled to be on this journey with you all and cannot wait to see what we can accomplish together over the next year. As we continue to navigate these difficult times, I cannot promise to fix all of your problems, but I can promise you will not face them alone. After all, there is only one way to get through some things - together.
Devyn Kelly


2020-2021 Students' Union President